Once again several of our members will be helping Catherine Chatters and Jo to clear Himalayan Balsam from the rivers and streams in our area.
Any help would be greatly appreciated by Catherine and her team.
Her details and further information are as follows:
New Forest Non-Native Plants Officer
Hampshire and Isle of Wight Wildlife Trust
Testwood Lakes Centre, PO Box 268, Bunel Road, Southampton, SO40 3XP
Telephone 023 8042 4205; Mobile 'phone 07770 923315
View the Project web-page at:-
http://www.hiwwt.org.uk/new-forest-non-native-plants-project
From the HIWWT web pages:
The New Forest is a crucial area for wildlife but it is threatened by invasive non-native plants. These plants were introduced to UK gardens as ornamentals or as oxygenators in garden ponds but they have 'jumped the garden fence' and invaded the countryside. They grow vigorously, spread rapidly and elbow-out our native wildflowers which provide important food and nectar for invertebrates.
Our ongoing efforts, often supported by volunteers, are helping to control the spread of these vigorous invaders and protect habitats for native plants and wildlife.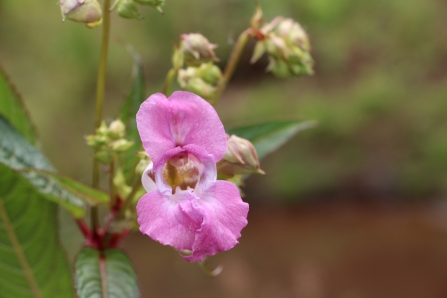 Wildlife
Because non-native plants are free from their native predators, they are often able to dominate a landscape with remarkable speed, pushing out the native plants and the invertebrates that depend on them.
With a decline in invertebrates comes a drop in species further up the food chain. Birds, fish and mammals can all be affected by this loss in diversity. Our wildlife depends on a well-balanced ecosystem, free of invasive non-native species.